{Vietnamese below}
𝐀 𝐓𝐑𝐔𝐅𝐅𝐋𝐄 𝐓𝐄𝐌𝐏𝐓𝐀𝐓𝐈𝐎𝐍 𝐓𝐀𝐋𝐄
UPDATE:
𝐒𝐓𝐎𝐑𝐘 𝐎𝐅 𝐀 𝐓𝐑𝐔𝐅𝐅𝐋𝐄 𝐓𝐄𝐌𝐏𝐓𝐀𝐓𝐈𝐎𝐍 𝐓𝐀𝐋𝐄
What a fabulous night to host a connecting Dinner Party! Thank you for your attending. Remember to stay posted because this was only the beginning of our events! Our next event is tentatively scheduled for the 17th September – make sure to check out our
Facebook page 
as well as our Instagram @Laangsaigon to stay updated on all of our upcoming events and promotions! Find a cute picture of yourself on our Facebook page from the event.
𝐂𝐀𝐓𝐄𝐑𝐈𝐍𝐆 & 𝐄𝐕𝐄𝐍𝐓 𝐒𝐄𝐓 𝐔𝐏
Just right for the Garden Party, BBQ Event or Private Function. From 20 guests or more let us provide you with the most delicious menu's cooked to perfection by our expert Chef's.
Laang có nhận làm các tiệc cho nhóm khách từ 20 người trở lên, mọi người có thể liên lạc để có thêm thông tin nhé!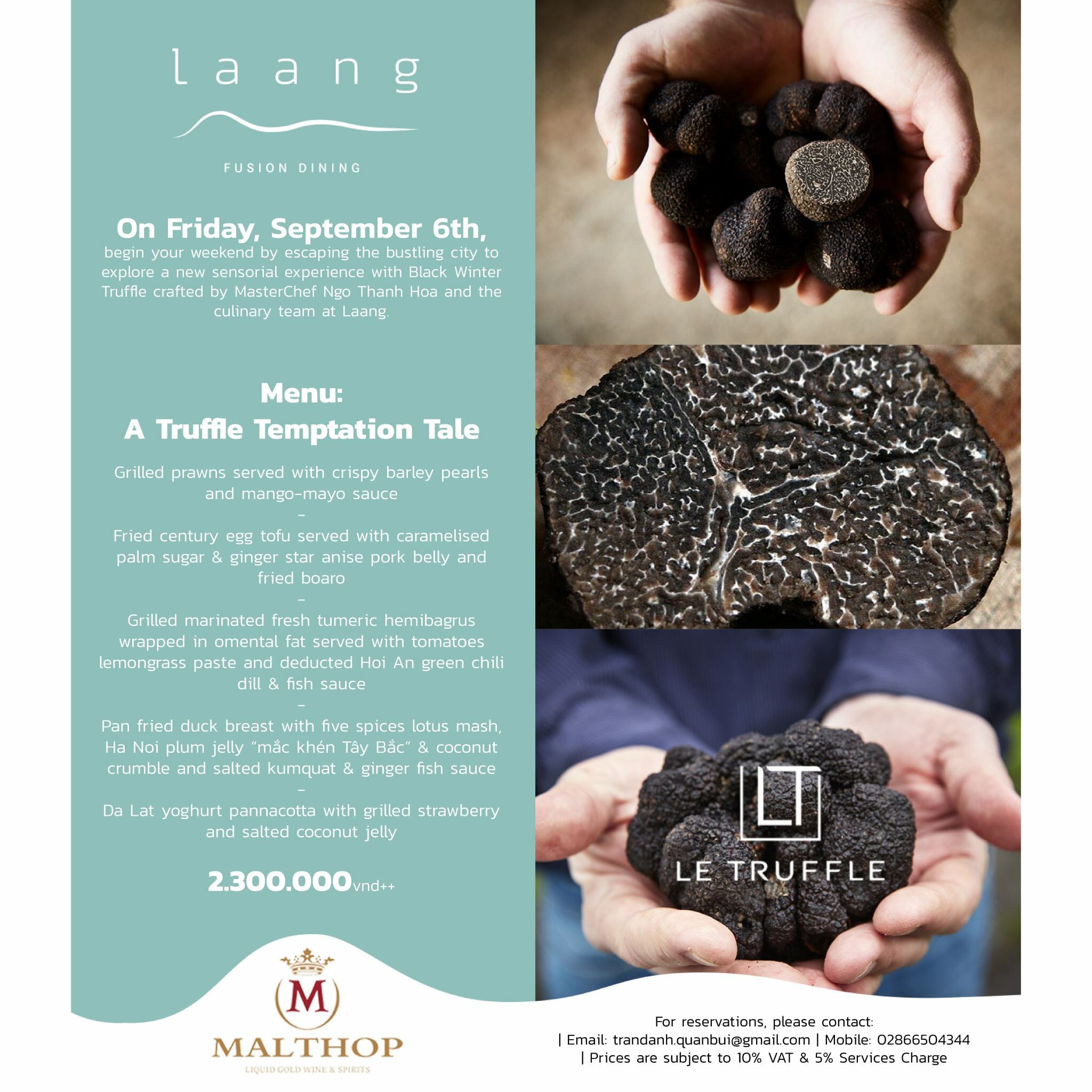 On 𝐅𝐫𝐢𝐝𝐚𝐲, September 6th.
Begin your weekend by escaping the bustling city to explore a new sensorial experience with 𝐁𝐥𝐚𝐜𝐤 𝐖𝐢𝐧𝐭𝐞𝐫 𝐓𝐫𝐮𝐟𝐟𝐥𝐞 crafted by MasterChef 𝐍𝐠𝐨 𝐓𝐡𝐚𝐧𝐡 𝐇𝐨𝐚 and the culinary team at 𝐋𝐚𝐚𝐧𝐠.
Seats are limited, please book in advance.
Full payment is required.
2,300,000++ (Including Wine Pairing)
Thứ Sáu 06/09/2019
Cùng 𝐋𝐚𝐚𝐧𝐠 trải nghiệm một "Đê𝐦 𝐍â𝐧𝐠 𝐓ầ𝐦 𝐓𝐫ả𝐢 𝐍𝐠𝐡𝐢ệ𝐦 𝐌ó𝐧 𝐕𝐢ệ𝐭". Các đầu bếp 𝐋𝐚𝐚𝐧𝐠 kết hợp cùng Vua Đầu Bếp Việt Nam 2013 𝐍𝐠ô 𝐓𝐡𝐚𝐧𝐡 𝐇ò𝐚. Dựa trên các nguyên liệu quen thuộc của Việt Nam, các đầu bếp sẽ biến tấu khéo léo cùng với nguyên liệu đặc biệt là Nấm Truffle – 𝐁𝐥𝐚𝐜𝐤 𝐖𝐢𝐧𝐭𝐞𝐫 𝐓𝐫𝐮𝐟𝐟𝐥𝐞
Bắt đầu ngày cuối tuần của bạn bằng cách thoát khỏi thành phố nhộn nhịp để khám phá trải nghiệm mới với sự kết hợp tài tình này bạn nhé!
Vì số lượng chổ ngồi giới hạn nên vui lòng đặt bàn và thanh toán trước để giữ chổ nha.
2,300,000++ (Bao gồm rượu đi kèm mỗi món)
Booking (Đặt bàn): https://www.laangsaigon.com
——

22 Dang Huu Pho, Thao Dien, District 2, HCMC

02866504344

trandanh.quanbui@gmail.com

www.laangsaigon.com